Details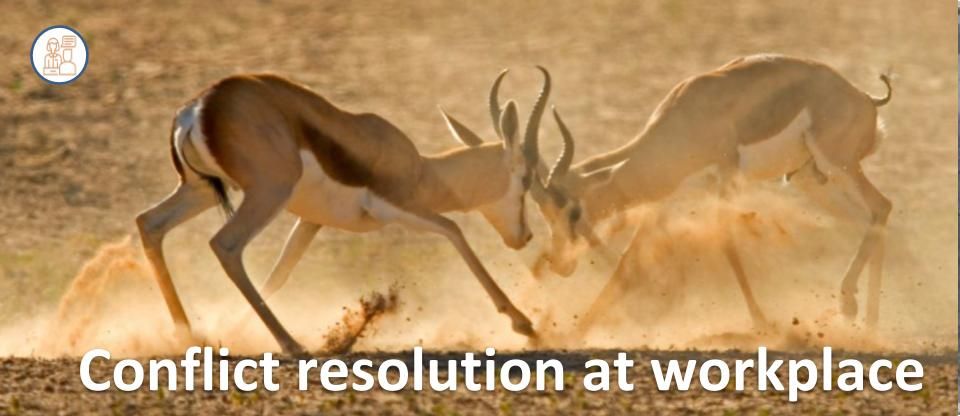 Do you struggle to adopt the right conflict resolution approach? How good are you at clearly separating the problem from the person?
Download Brochure
More Details
Overview
Conflict is inevitable in all social interactions, be it personal or at the workplace. Whenever choices exist there is potential for disagreement. When disagreement is poorly dealt with, the outcome can be contention. Contention creates a sense of psychological distance between people, such as feelings of dislike, bitter antagonism, competition, alienation and disregard. This interactive & highly practical program is designed to help participants understand the conflict, define the issue and apply appropriate conflict resolution strategy for maximum mutual gain.
Target Audience
Everyone who want to develop +tive & effective approach to dealing with workplace conflict and achieve positive outcomes.
Maximum – 20 participants in a Virtual class & Face to face Maximum – 250 participants in a Webinar
Outcomes
Enhanced understanding of conflict
Ability to define the issue before resolving it
Ability to apply optimal conflict resolution strategy
Self awareness on the preferred style of dealing with conflict
Course Content
Understanding conflict
Causes of conflict
Approaches for dealing with conflict
Emotions Vs logic
Conflict Management Preferences
Forging collaboration
Building & promoting trust
Approach
Multiple Delivery Options – F2F, Facilitator led Virtual Sesion, Webinar
Highly interactive facilitator moderated discussions, Presentations, Individual & Group exercises, Case studies, Role plays, App based activities, Videos, Q&A
Duration
Multiple Delivery Options:
Webinar – 1 hour
Facilitator led Virtual – 3 hours
Face to Face – 3 hours
Optional Customisation
Duration of programs based on specific organisational needs
Multiple sessions can be organised during the day
Training needs analysis prior to design and delivery – to baseline exact requirements for maximum program value and impact
Follow-up programs and individual coaching sessions for greater effectiveness