Details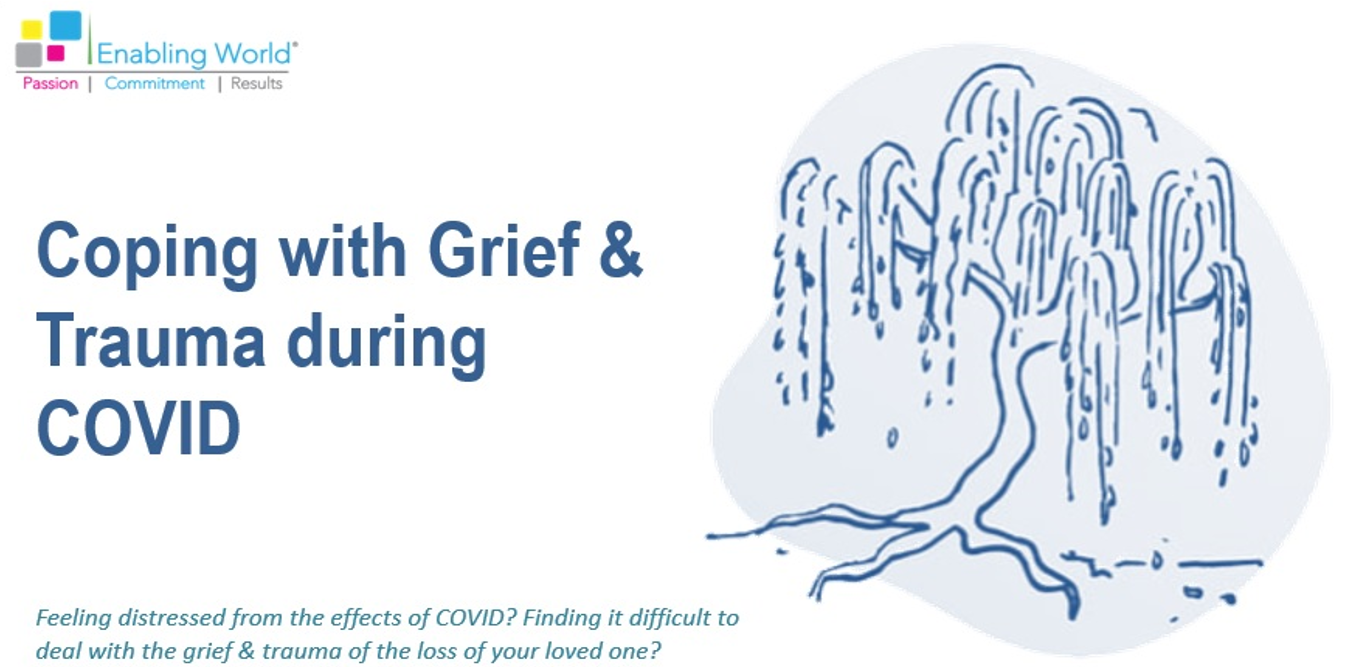 Feeling distressed from the effects of COVID? Finding it difficult to deal with the grief & trauma of the loss of your loved one?
Download Brochure
More Details
Overview
The COVID-19 pandemic has been devastating as many people have lost their loved ones. There is fear, anxiety, depression and uncertainty all around. Lockdown, restriction on physical proximity, lack of adequate medical support,  coupled with fear & anxiety has made it overwhelming. Most of us are finding it difficult to come to terms and deal with own grief & trauma and support others in these trying times. Our highly interactive program covers the grief life cycle, practical methods to cope with the grief and/or trauma and ways to support others experiencing grief.
Target Audience
Anyone experiencing the impact of the pandemic, especially the ones who have experienced the loss of dear ones and helplessness during critical illness in the family;  Caregivers or those supporting people working through grief.
Maximum – 30 participants in a Virtual class & Face to face
Maximum – 250 participants in a Webinar
Outcomes
Understanding shock, grief, trauma & its complexities
Ability to analyse & deal with the situation better
Recognition of the impact of specific loss, grief, trauma on the individual, family & community
Ability to provide appropriate healing responses to situations of loss, grief and trauma
Course Content
Understanding, grief, trauma & it's impact
Cycle of grief; Paths to healing and recovery
Symptoms of trauma & PTSD
Coping techniques for loss, grief & trauma
Impact of diet, sleep, exercise and rituals
Helping other cope with loss, grief & trauma
Helping children cope with grief
Approach
Multiple Delivery Options – F2F, Facilitator led Virtual Session, Webinar
Highly interactive facilitator moderated discussions, Presentations, Individual & Group exercises, Roleplays, App-based activities, Videos, Q&A
Duration
Multiple Delivery Options:
Webinar – 1 hour
Facilitator Led Virtual - 2 hours
Face to Face – 1 day
Optional Customisation
Duration of programs based on specific organisational needs
Multiple sessions can be organised during the day
Training needs analysis prior to design and delivery – to baseline exact requirements for maximum program value and impact
Follow-up programs and individual coaching sessions for greater effectiveness