Details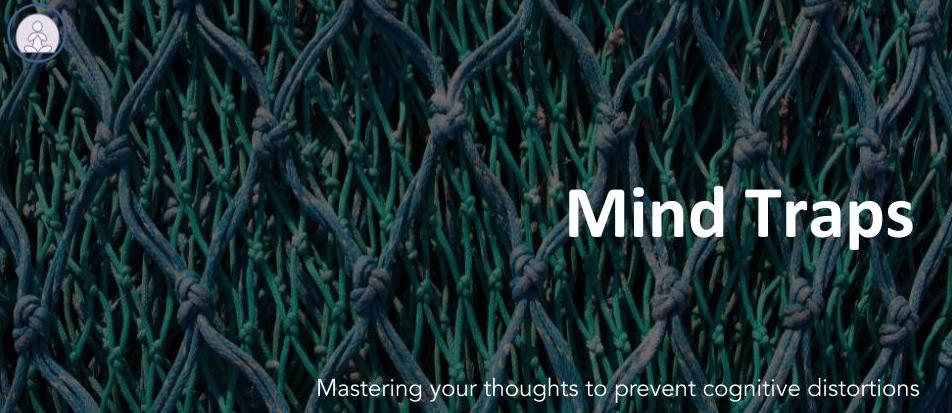 Does you negative swing of thought makes you to jump to conclusions and prevents you from seeing the bigger picture. Learn the art of mastering your thoughts and take ownership over our lives.
Download Brochure
More Details
Overview
Mind traps (also known as cognitive distortions or Thinking Traps) are patterns of thought – usually with a negative swing that prevent us from seeing things as they are. This highly interactive and practical session explores to identify six different mind traps; build self-awareness on our own & others' negative thinking traps, and provides handy tools / techniques / hacks to prevent/ deal/ reverse with these traps.
Target Audience
Everyone who wish to master the skill of remaining in control and not letting themselves into mind traps.
Maximum – 30 participants in a Virtual class & Face to face
Maximum – 250 participants in a Webinar
Outcomes
Understanding of different mind / thinking traps 

Knowledge & ability to identify their mind traps 

Understand and apply MiSAFE framework 

Apply quick hacks to prevent / manage these traps

Ability to help others identify and deal with their thinking traps  
Course Content
What are Mind traps

What are mind traps

6 different types of mind traps 

Using reflection sheet for identifying your mind traps 

Techniques to prevent mind traps

MiSAFE - strategies to manage mind traps 

Dopamine detox
Approach
Multiple Delivery Options – F2F, Facilitator led Virtual Session, Webinar
Highly interactive facilitator moderated discussions, Presentations, Individual & Group exercises, Roleplays, App-based activities, Videos, Q&A
Duration
Multiple Delivery Options:
Webinar – 1 hour
Facilitator Led Virtual - 2 hours
Face to Face – 1 day
Optional Customisation
Duration of programs based on specific organisational needs
Multiple sessions can be organised during the day
Training needs analysis prior to design and delivery – to baseline exact requirements for maximum program value and impact
Follow-up programs and individual coaching sessions for greater effectiveness