Details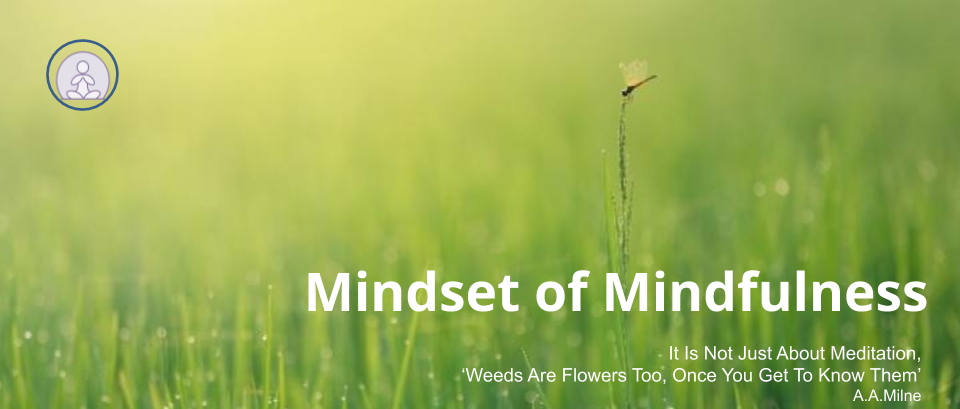 Are you feeling distracted, pressured, overloaded with information at work? Are you finding yourself directionless / demotivated? Wish to become more efficient & productive and have overall wellness?
Download Brochure
More Details
Overview
Mindfulness is the active exercise to bring our mind, body, emotions and behaviour to the present moment. More one is engaged completely in the task involved, more focussed and efficient one becomes.
Target Audience
All teams where attention is critical or focussed action is required, such as decision making, disagreements, firefighting etc. It's especially valuable to managers or team leads who have to be resilient and calm in the face of a storm.
(Max. 30 participants in a Virtual class & Face to face; 250 in a Webinar)
Outcomes
Mindful strategies for giving clarity to tasks & making processes efficient 

Ways to simplify and clarify roles and goals 

Tools to develop inner calm, which reflects in interpersonal interactions

Recognition of discord in thought, body sensations, emotions so as to take relevant interventions 
Course Content
Dispelling myths of mindfulness

Recognising our personal PAID reality

Understanding Intention / Attention / Attitude triangle

Real time application of IAA model 

Mindfulness tools

Ideas as to how to start practice on a day to day basis
Approach
Multiple Delivery Options – F2F, Facilitator led Virtual Session, Webinar
Highly interactive facilitator moderated discussions, Presentations, Individual & Group exercises, Case studies, Roleplays, App-based activities, Videos, Q&A
Duration
Multiple Delivery Options:
Webinar – 1 hour
Facilitator led Virtual – 2 hours
Face to Face – 1 day
Optional Customisation
Duration of programs based on specific organisational needs
Multiple sessions can be organised during the day
Training needs analysis prior to design and delivery – to baseline exact requirements for maximum program value and impact
Follow-up programs and individual coaching sessions for greater effectiveness