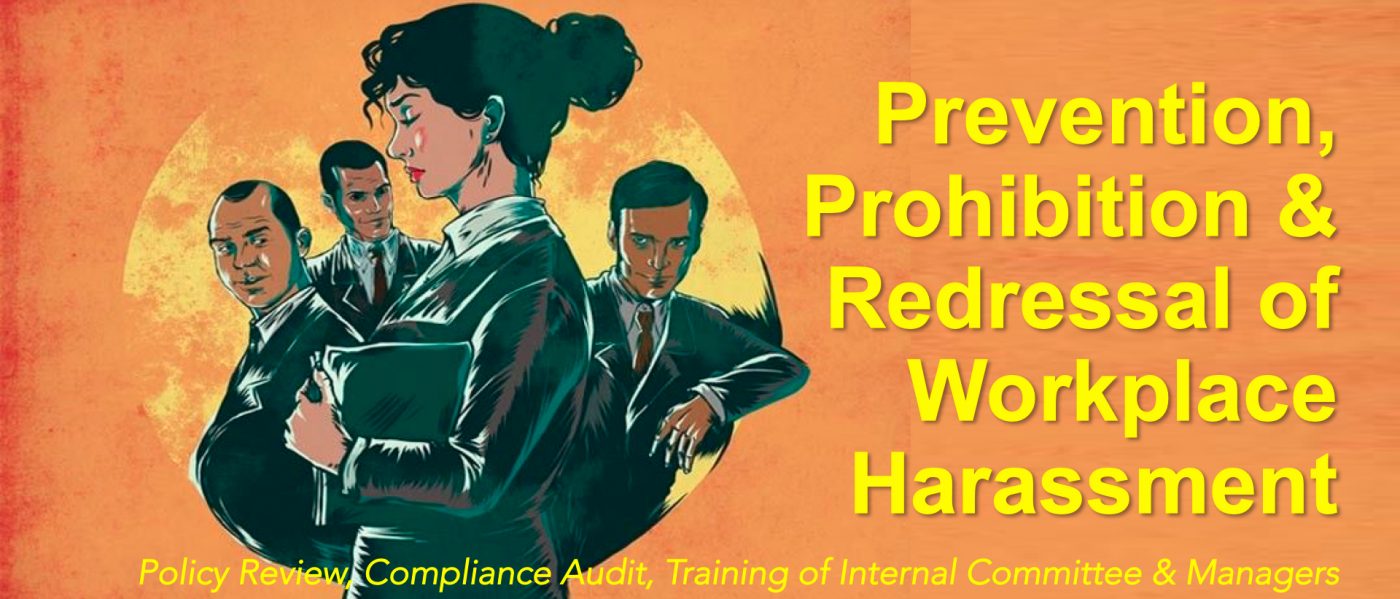 Article 21 of the Indian Constitution guarantees the right to life and personal liberty that includes the right to live with dignity and to be treated with respect, decency and with dignity. Article 19(1) of the Indian Constitution gives the fundamental right to all its citizens to practice any profession or carry out any occupation. Article 14 and 15 prohibits the discrimination on the grounds of religion, race, caste, sex etc. 
India ratified the Convention on the Elimination of All Forms of Discrimination against Women (CEDAW) on 25th Jun 1993. Supreme Court of India in the case of Vishaka & Ors vs State Of Rajasthan & Ors, 1997 reaffirmed that sexual harassment at workplace is a form of discrimination and recognised as a violation of the constitutional right to equality, right to life and love with dignity. 
With the primary objective of providing protection against sexual harassment of women at workplace and for the prevention and redressal of complaints of sexual harassment and matter connected therewith, The Sexual Harassment of Women at Workplace (Prevention, Prohibition and Redressal) Act, 2013 was passed. This Act and the Rules to the Act came into force with effect from 9th December 2013 and applies to the whole of India.
Employers in India now must provide women with a safe and secure working environment and institute an efficient mechanism of Prevention, Prohibition and Redressal of instances of sexual harassment of women at workplace. Law also mandates every employer to formulate and widely disseminate an internal policy or declaration for prohibition, prevention and redressal
POSH Related Services
We enable organisations designed and execute their policy, to build employee's, manager's & IC members awareness, sensitivity & their responsibilities to prevent & manage such instances proactively.
Conducting Effective & Legally Compliant POSH Enquiry – Upskilling Internal Committee Members – Our practitioner-based program not only brings practical insights for IC members how to effectively conduct an enquiry in a legally compliant manner; it also helps IC members build their skills of effective investigation into the matter, including deciding appropriate remedial measures based on the gravity of circumstances
E-Learning – (45 – 60 Minutes, highly interactive & customizable, 3 different modules for Employee, Managers & IC members; multilingual – 8 Languages; SCORM and SaaS options. Periodically updated with case laws, additional webinar & snippet size learning support. Compatible with Desktop /Laptop /Mobile / Tablet. HTML5 & Flash Support
Building Awareness & Upskilling Managers – program designed for managers/leaders in the organisation, to build their awareness, sensitivity, ability to understand risks & their responsibilities to prevent instances of sexual harassment and report any suspected instance of sexual harassment proactively. 
POSH Compliance Audit – Done onsite as well as offline (including interaction with select people); Includes compliance of all the critical aspects of POSH policy including IC members adequacy, Policy access, Policy awareness / communication methods /notices display about penal consequences of sexual harassment, Publication of IC member's details, Facility for dealing with sexual harassment proceedings, Periodic training – Updating IC members skills, Periodic awareness building training records, Annual reports compliance, past proceedings (sample basis) – maintenance of proper records and compliance of process and timelines, implementation of recommendations of the internal committee within timelines
Advisory services – Creation or review of the organisation's policies & practices on prevention of sexual harassment; promoting and building the awareness on the matter; consulting & advisory services on POSH related matters.
Connecting with External Members – helping organisation connect with highly experienced external members for their Internal Committee.
We provide well-designed instructor-led, Live Virtual Classes and webinars to equip participants with the knowledge, skills & ability to apply their learning at the workplace. Highly experienced, skilled and qualified professionals/facilitators deliver the interventions.
We have trained IC members and Managers at United Breweries, United Spirit, Voltas, Infosys, Johnson Controls, DTDC, Hindustan Petroleum, First Advantage, L Brand to name a few of our clients.
We proudly partner with M/s Succeed Technologies, who have deep industry & subject knowledge to build and provide impactful eLearning solutions. With 20+ years of experience in corporate training, adult learning principles, instructional design and exposure to different industries has helped it create courses are engaging, impactful and provide a fun-filled learning experience with usage of enriching visuals created using 2D & 3D technologies and gamified interactivities