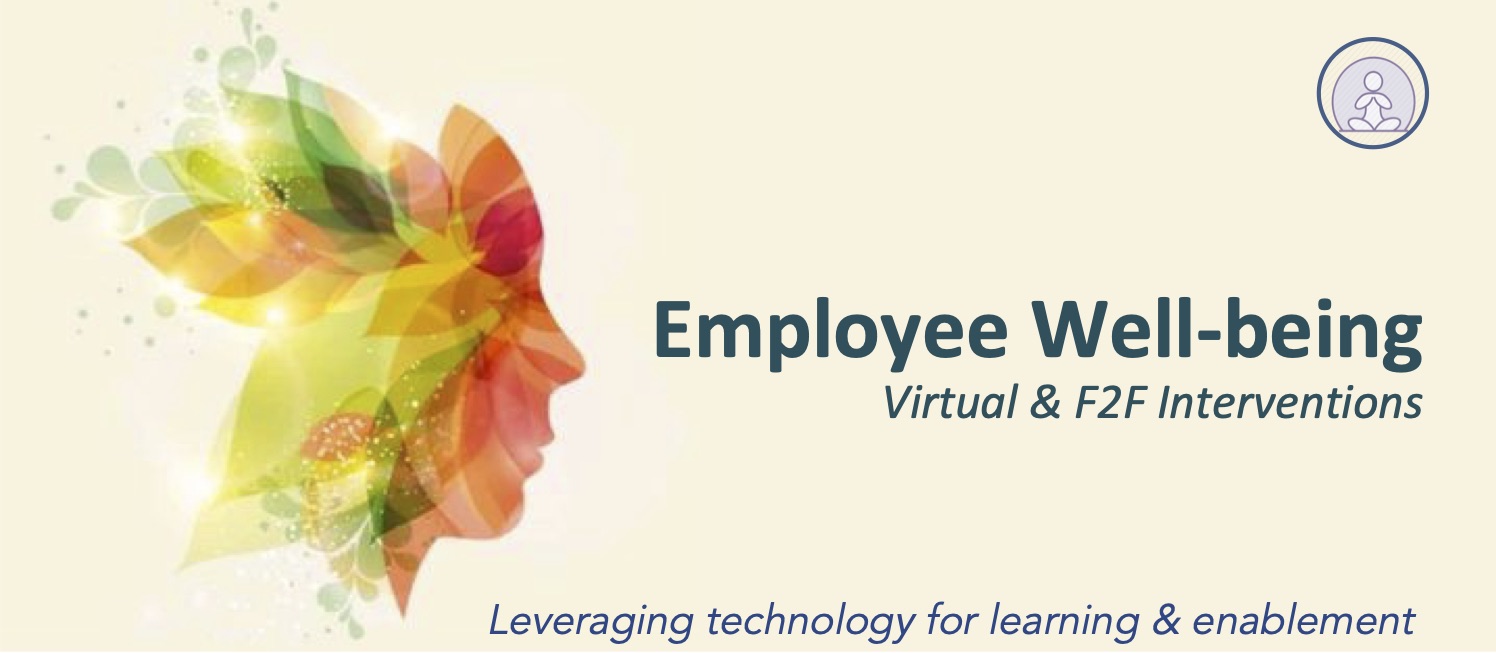 Ill-health affects productivity, increases absenteeism and thereby organization's bottom line. India can save up to US$20 billion each year through 1% reduction in absenteeism alone – an ASSOCHAM report. Stress has never been higher than what we are experiencing now. Enhanced Anxiety is causing sickness and mental health issues. Uncertainty of business, employment and health risks in the country is taking a toll on the employees. Employee working remotely / home do experience fear of isolation. Employee wellness and providing mental health support is a moral responsibility of every employer. 
Enabling World (EW) has been supporting Global Leaders in Employee Assistance Programs (EAP) and providing effective solutions to support employers. Besides Face to Face interventions, EW leverages technology to deliver  Employee Wellness training / interventions through Virtual live sessions that are highly impactful, cost effective and have greater reach.
Leverage our wellness solutions as proactive and preventive care of employee wellbeing. Let them know that 'You care for them'
EMPLOYEE WELL-BEING TRAININGS (Virtual & F2F Interventions)
Use these well-designed instructor led, Live Virtual Classes and webinars to equip your staff members with the understanding and tools, that will enable them to transform themselves through consciousness raising, empowering learning, knowledge building and skill development. Skilled and qualified professionals, who have extensive experience of working with groups, facilitate each training session.
| | | |
| --- | --- | --- |
| Training Topic | Live Virtual Class / Webinar / F2F | Most beneficial for |
| Accelerate | 1 – 2 hours | Anyone wishing to raise the bar of their success through enhanced personal efficiency |
| Adopting Positive Habits | 1 – 2 hours | Everyone who wish to learn simple steps to acquire positive habit |
| Basics of Parenting Teenage Years | 1 – 3 hours | All parents raising teenagers and wish to learn the unique parenting skills to raise teenage children. |
| Befriending Stress | 1 – 6 hours | Anyone finding difficult to deal with stress, feeling incapacitated, and experiencing deterioration of physical & mental health on a/c of stress. |
| Befriending Yourself | 1 – 3 hours | Anyone who is caught in the myriad of life thereby losing touch with his/her inner being and wishes to experience the innate self-love as a tool to achieve self-development and self-mastery. |
| Brand You | 1 – 6 hours | Anyone who wishes to leverage personal brand for success. |
| Building Effective Relationships at Work | 1 – 3 hours | Everyone who is leading a team and whose work requires a high level of intra / inter function collaboration. It's especially valuable to mid-level leaders, managers, team leaders and supervisors of teams who intend to acquire and enhance their skills of building & sustaining high performing teams. |
| Building Resiliency | 1 – 3 hours | Anyone finding difficult to deal with pressure & life challenges and wish to bounce back & gain control. |
| Care Giving – Special Ability Children | 1 – 3 hours | Anyone caregiving special ability child |
| Challenges In Care Giving Children With Autism | 1 – 3 hours | Anyone care giving children/ adolescents with ASD |
| Collaborating Mindset | 1 – 3 hours | All leaders, managers and team members who wish to have control over their work schedule to be productive. |
| Conscious Self Care |   | People who are looking at self-care as a lifestyle |
| Conversation with Emotions | 1 – 6 hours | All team members facing the challenge of dealing with emotions; feeling incapacitated on account of emotional disturbance. Especially valuable to leaders, managers, team leaders and supervisors of teams. |
| Counselling Skills | 1 – 6 hours | Young team leaders, managers and supervisors, HR professionals, leaders, customer service & customer care professionals and Individuals aspiring to gain counselling skills |
| Cyber Security for Children | 1 – 4 hours | Everyone who wishes to keep their children safe while exploring cyber world. |
| Effective Decision Making | 1 – 4 hours | All team members, who are required to make important high impact decisions. It's especially valuable to leaders, managers, team leaders, and supervisors of teams. |
| Elderly  Care | 1 – 4 hours | Anyone engaged in elderly care or wishing to learn the techniques of elderly care. |
| Embracing Life | 1 – 4 hours | Anyone who are feeling negative spiral mindset about life event and losing hope about the future. People who are under stress, depression, feeling lonely or victim of circumstances. People who wish to shred negative thought and wish to experience the brighter side of life. |
| Enhancing Motivation | 1 – 4 hours | Most valuable for people managers, supervisors, all team members. |
| Financial Wellbeing | 1 – 4 hours | Everyone who is looking to work on their financial wellbeing. |
| Handling Domestic Violence | 1 – 3 hours | All leaders, managers and HR professionals who wish to manage their employees with domestic violence trauma. |
| Happiness – A frame of mind | 1 – 3 hours | Anyone who wish to start the journey of finding the meaning of their life. |
| Healing through Sounds | 1 – 3 hours | Anyone who needs help to cope up with the issues on a physical, mental & emotional level. |
| Health & Healing | 1 – 3 hours | Anyone wishing to achieve a healthy and harmonious life using their innate mental powers |
| IKIGAI:The Secret of Finding Your Purpose | 1 – 6 hours | Anyone who is searching for happiness and true purpose & meaning of their life. |
| Impact on children due to COVID | 1 – 4 hours | Every parent and anyone caregiving children during COVID times |
| Impact on parents due to WFH | 1 – 4 hours | Anyone wishing to balance the role as parents while working from home |
| Inner Critic | 1 – 6 hours | All team members challenged by the inner critic and hence feeling stressed. It's especially valuable to leaders, managers, team leaders and supervisors of teams. |
| Leading with Empathy | 1 – 6 hours | Managers, supervisors, leaders whose team is dealing with anxiety, stress & isolation, especially in this lockdown. |
| Living Well With Stress | 1 – 4 hours | Any one finding difficult to deal with stress, feeling incapacitated, and experiencing deterioration of physical & mental health on a/c of stress. |
| Managing Anxiety | 1 – 4 hours | Anyone who wants to learn to use anxiety to their advantage. |
| Managing Fatigue & Burnout | 1 – 3 hours | Anyone who wants to stay mentally healthy. Managers, HR professionals, Counsellors who are responsible for employee's well-being at workplace |
| Mind Body Connection | 1 – 2 hours | Anyone who is finding it difficult to manage this connection and learn to come out of the negative mindset. |
| Mind Traps | 1 – 3 hours | Everyone who wish to master the skill of remaining in control and not letting themselves into mind traps. |
| Mindful Eating & Hydration | 1 – 4 hours | Anyone who wish to learn effective eating habits and care about their health. |
| Mindful Eating & Movement |   | Any working professional looking to integrate the mantras of mindful eating and movement into their daily routines. |
| Mindful Isolation | 1 – 3 hours | People, currently working from home and would want to maintain a healthy lifestyle and a productive state of mind in this lockdown. |
| Mindfulness | 1 – 4 hours | All teams where attention is critical or focussed action is required, such as decision making, disagreements, firefighting etc. It's especially valuable to managers or team leads who have to be resilient and calm in the face of a storm. |
| Nada Yoga | 1 – 2 hours | Anyone who wants to be in the best state of physical, mental & emotional health and be able to use these dynamic qualities in your life each day. |
| Out of the Box | 1- 3 hours | Anyone wishing to expand their mental flexibility and enhance their creativity |
| Personal Success | 1 – 6 hours | Employees with high expectations & ambitions, who would like to create a balance between personal & professional success & learn to recognize attitude, action & choices that contribute to personal success. |
| Positive Mindset | 1 – 3 hours | Anyone, currently combating negative thoughts and wish to learn the art of staying positive. |
| Positive Parenting | 1 – 4 hours | Parents who are wishing to understand the impact of themselves on their child |
| Psychological First Aid | 1 – 3 hours | Anyone who wants to provide a swift response to the victim of any trauma or extremely distressing event. |
| Restful Sleep | 1 – 3 hours | Anyone who wishes to master the skill of getting restful sleep. |
| Self-Care for Caregivers | 1 – 3 hours | Anyone who is or about to get into a caregiver role, especially working women of all ages. |
| Story Telling | 1 – 6 hours | Anyone who wants to be in the best state of physical, mental, and emotional health and be able to use these dynamic qualities in your life each day. |
| Strength Based Approach | 1 – 12 hours | All leaders, people managers, business units & function heads, team members who wish to create strengths based team approach for great employee experience and engagement. |
| Stress Relaxation Techniques | 1 – 2 hours | Anyone finding it difficult to deal with stress, feeling incapacitated, and experiencing deterioration of physical & mental health on a/c of stress. |
| Super Mom | 1 – 3 hours | All working women who may have children at home. |
| Think Right | 1 – 3 hours | Anyone determined to transform their life through mind reprogramming and powerful self talk. |
| Thinking Traps | 1 – 3 hours | Everyone who wish to master the skill of remaining in control and not letting themselves into mind traps. |
| Unconscious Bias | 1 – 6 hours | Every employee at workplace. Anyone who is keen to identify & eliminate unconscious bias. |
| Unfollow your Self limiting Beliefs | 1 – 6 hours | Anyone who feels stuck, need a new direction, wants clarity on their purpose, a better strategy and wants to achieve harmony with work, people and community. |
| Unlocking the Lockdown Mindset | 1 – 3 hours | Employees WFH, people dealing with anxiety, stress & isolation, caregivers and all who want to healthy & productive state of mind in this lockdown. |
| Unplugging the Smart World | 1 – 2 hours | Everyone who wishes to regain control over life by controlling the Smart device addiction. |
| Weight Management | 1 – 4 hours | Everyone who wish to solve his/her weight issues, increase metabolism and boost health |
| Welcoming Change | 1 – 4 hours | Everyone who want to manage change with ease. |
| Work – Life Integration | 1 – 3 hours | Everyone who wants to acquire skills for work-life integration. |
| Work from Home Fatigue | 1 – 3 hours | Everyone who wishes to relieve him / herself from work from home fatigue |
| Working with Expectant Mothers | 1 – 4 hours | All leaders, managers, team leaders, supervisors, employees being groomed for managerial roles and anyone else with the responsibility for leading modern, diverse teams. n |